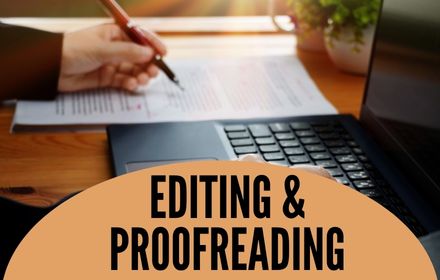 Understanding the need for editing and proofreading strategies can improve the quality of the text. The grammatical errors affect your writing. So, working on editing and proofreading skills is very crucial.
Sadly, it's frustrating to get negative reviews. But your guide will correct those incorrectly spelled words, grammatical errors, and other serious influences on your manuscript. Therefore, editing and proofreading are vital for improving the writing style and speech clarity. Students and writers often get confused by the two words that appear to be the same. But, editing the manuscript entails rereading and looking for major faults, including structure, paragraph arrangement, and content issues. And, the objective of proofreading is to discover and correct writing, grammatical, and linguistic errors.
Firstly, look over your guide/supervisor notes. This will assist you to identify what and how to look for when you are beginning. You can also use Grammarly to verify your manuscript's grammar and wording. It corrects inconsistencies, duplication in text, spelling, punctuation mistakes, and more. As a result, one can enhance their writing and save time by not editing.
The Importance of Editing Services
Editing is a difficult process, but it is necessary. For beginners, the points listed below are a great place to start.
A well-written abstract, introduction, and conclusion.
Paragraph Structure: The paragraph transitions must be clear and the topic phrase introduces each paragraph's main point.
Main Body: A focused thesis methodology is required. The key points must be backed up by proof. Providing definitions and proof can also help clarify your work and views. Look for word repetition, sentence structure, and technical terms used correctly.
Proofreading Service
After editing the manuscript, proofreading it with a more critical eye will help you spot flaws and make the required adjustments. Proofreading, like editing, is a process.
Be patient.
Don't expect to detect all errors and flaws on the first read.
Reading the work aloud can help you focus and slow down the process.
Divide the documents into sections and subsections to help you focus and avoid feeling overwhelmed.
Errors were also useful for future writing assignments. The more you know about your mistakes, the simpler it will be to minimise them.
As previously stated, editing and proofreading help one to become a better writer in general. These will help to improve your language skills and writing style. For example, when writing a thesis, you should adopt a formal tone. Avoid employing the passive voice, which includes statements such as "I feel" or "I think." The use of figures and tables to illustrate your research findings is another area that is often disregarded in manuscripts. This is especially important in scientific writing, where tables and figures help the reader analyse and picture facts.
Fortunately, there are numerous tools to assist with this procedure, but manually with the guidance of expert editors or proofreaders can improve the manuscript error-free. We, at Thesis Ace Writers, have the best online editing and proofreading techniques. Our editors and proofreaders always improve the readability of the document from low to high quality.